Grow Your Own Food
How to build and fill a raised garden bed
Riding out the pandemic, safe at home, has changed my relationship with my environment and with food. I'm cooking more and spending lots of time in my yard! Having a continuously productive fruit and vegetable garden makes me feel powerfully self-sufficient. Here's how I built my raised beds and the cost effective, labor saving method I used to fill them.
This is what you'll need to construct a 6' by 3', wood vegetable bed. Start building it in the morning and you can have it planted by teatime.
6 – 6' long 2×6 and 6 – 3' long 2×6 boards (fir will be the least expensive but cedar or redwood will last much longer)
8 Galvanized Rigid Tie Corner Brackets

Pro Twist Modified Truss Screws

I box of #8 x  2 inch screws

1 box of #8 x 1 inch screws

4 x 2 ½" all purpose wood screws (for the bottom corners)

1 Bale of Straw (Not hay. Hay has seeds)

1  Bale of Alfalfa

4-6 bags of compost (use homemade compost if you have some)

Bone Meal

Cardboard (enough to cover two layers)

Optional: Burlap as a biodegradable weed barrier (I use coffee bags)

A power drill or screw gun.

A chop saw or miter saw or have your boards cut to size at the lumberyard.
We will be building the bed in three layers, upside down. Each of the top two layers will consist of two 3' boards and two 6' boards and 4 corner braces. 
Wedge the four braces over the corners of your first layer of boards with the 3' boards across the ends of the 6' boards. The final raised bed will measure 75" x 36".

Use the 1" screws to hold the brace onto the face of the board and the 2" screws to pass through the brace and tie the perpendicular boards together at the corner.
Repeat to create your second layer.
On top of the second layer, place the boards for the last layer.  Screw the brackets to this new layer and then drive long screws at a diagonal to secure the boards together at each corner.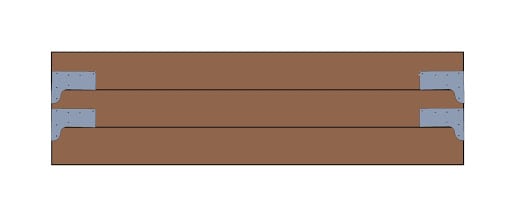 Flip the two attached layers over. And affix the top layer
Most vegetables need full sun for at least 8 hours a day. Place your box in a sunny spot. I built mine, 10 years ago, right on top of my lawn. No sod removal needed!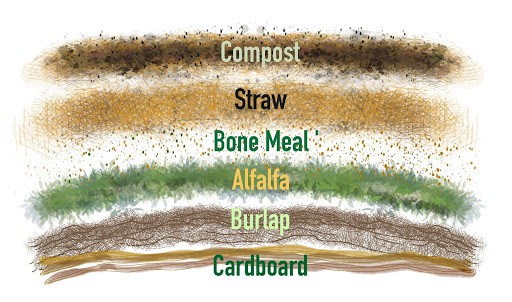 Fill the bottom with two layers of cardboard (if you don't have cardboard you can use newspaper) Remove any tape or labels. 
Add a layer of burlap.
Untie your bale of straw. It will naturally break into sections that are about 6" to 8" thick pads. Stack 2 layers in the bed. Water well.
Optional: add green garden clippings, kitchen waste (vegetables only) and dry leaves if you have them.
Sprinkle the bone meal over the straw and garden waste.
Pile on a layer of alfalfa using the same method as the straw layer.
Water well.
The top layer is compost. Use enough to create a mound that is a bit higher than the top of the box. I use a combination of bought and homemade compost and a little of my yard's soil. My native soil is clay and adding it helps my beds retain moisture during the dry months. The downside is that i usually have to pull a few weeds. Over time all the layers will break down the soil will settle considerably.
Once you have at least 6 inches of compost you are ready to plant some seeds or six packs of small starters.  For quick results, at this time of year, I recommend lettuce, kale, beets, and chard. You can also sprinkle a few radish or Japanese turnip seeds to harvest for a salad in a few short weeks. Sprinkle a few handfuls of loose straw as mulch.
The raised beds I built a decade ago have produced thousands of pounds of produce. Each year I add a new layer of compost and every now and again I add layers of alfalfa, straw and bone meal. That's it! 
Get started because nothing tastes better than homegrown vegetables and in Southern California we can grow them for a year round bounty.