Written by: Kate, Marketing Department and lover of all things Fall
If the October beverage menu at Starbucks tells us anything, it's that people LOVE the fall. I have no shame in admitting I am very much one of those people. Give me all the pumpkin spice beverages and fall scented candles.
In addition to my seasonal beverage lineup and candles, I also love to decorate my home for the fall. Being home so much due to COVID, I really went all out this year.
I grabbed some pumpkins and mums from Anawalt and spruced up my space for the fall season! I also include a few front porch ideas and some helpful tips.
Don't miss your chance to enter our fall decorating contest! Show off how you've styled your space.
Curb Appeal
I don't think I've ever taken so many walks in my life, nor do I think I've ever seen this many people take so many walks. I thought it would be fun to really go all out on the exterior areas, giving myself and my neighbors something festive to enjoy on our daily walks.
There are two entrances to my home, a front entrance and side entrance. I couldn't decide how I wanted to style my porch, so I tried it three ways. Let me know in the comments which one you like best!
Bushel Baskets & Layered Pumpkins
Bushel baskets are a great way to add some style to your space. They always make me think of apple picking or a fall farmer's market. I also added in a few smaller mums, interspersed with the pumpkins on the steps.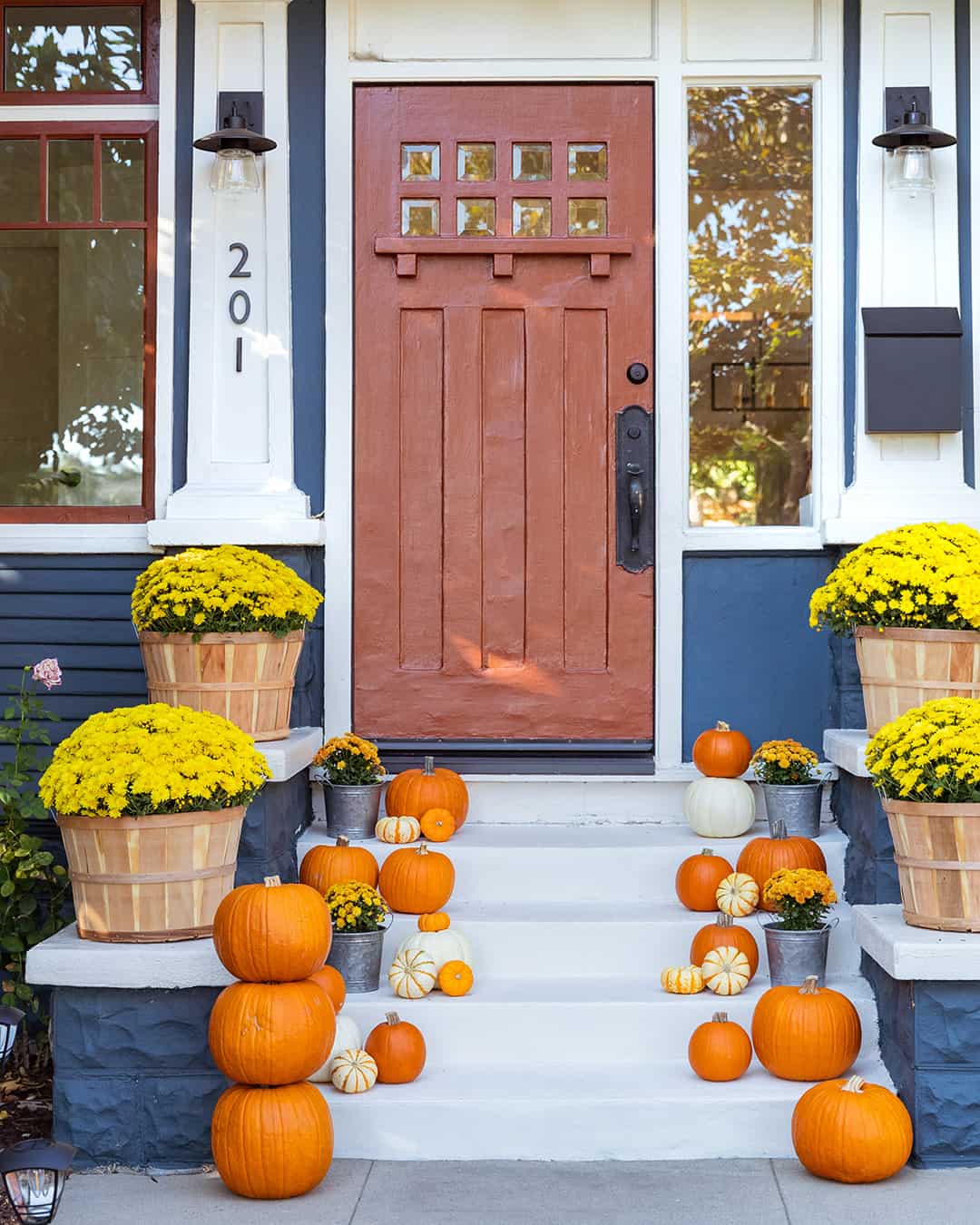 Galvanized Planters & Lanterns
I love the way the yellow mums pop in these metal planters. It adds such a nice dimension and each piece really stands out. I also added in four lanterns that turn on at night, so the whole space lights up nicely at night. With the sun setting earlier, I think it's a nice little touch.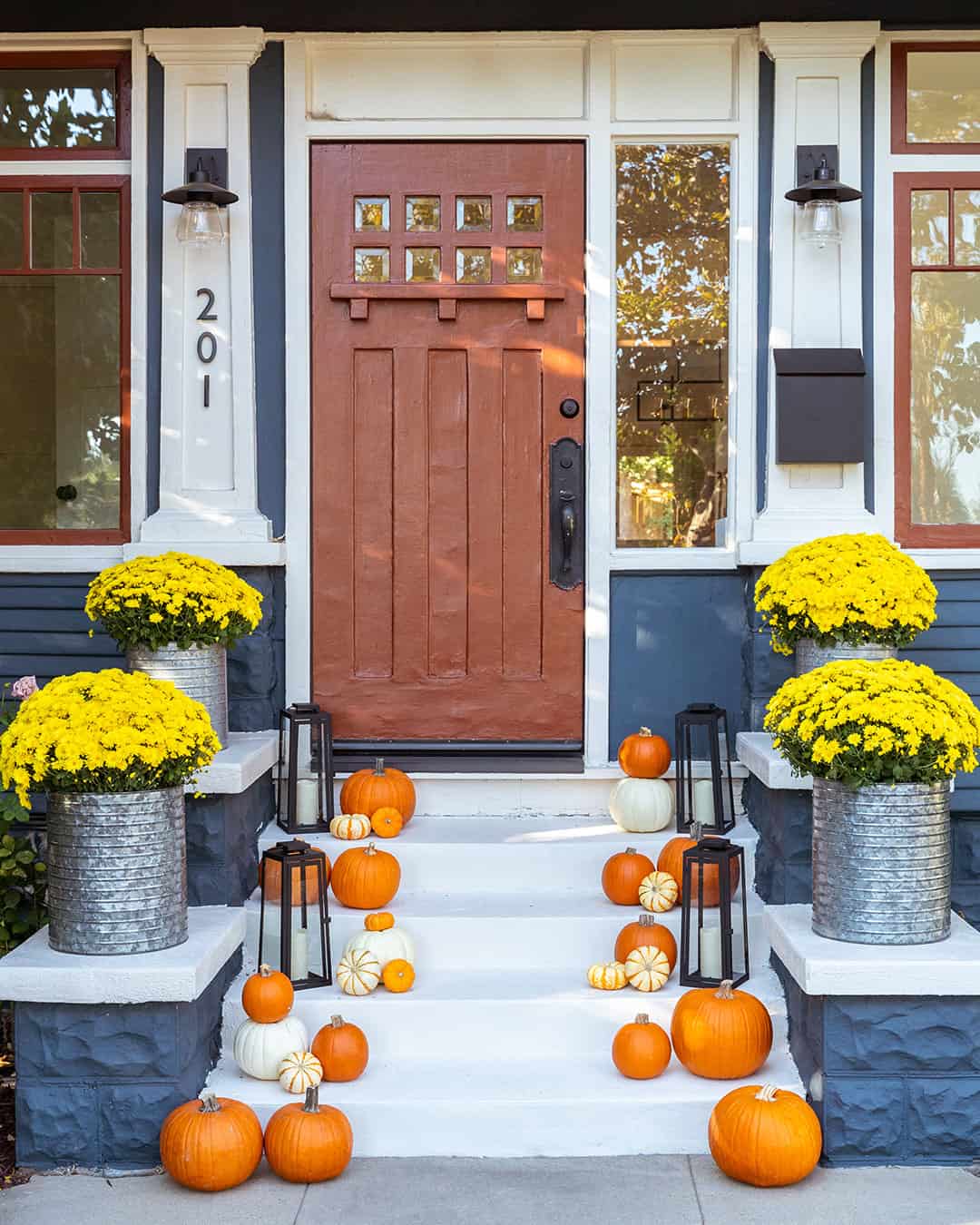 Mums Galore & Tiered Fall Elements
I really brought all of the fall elements together for this set up. I found a few crates at a craft store and they were perfect for propping up the flowers and pumpkins. I really like this one because everything flows together nicely and feels so intentional.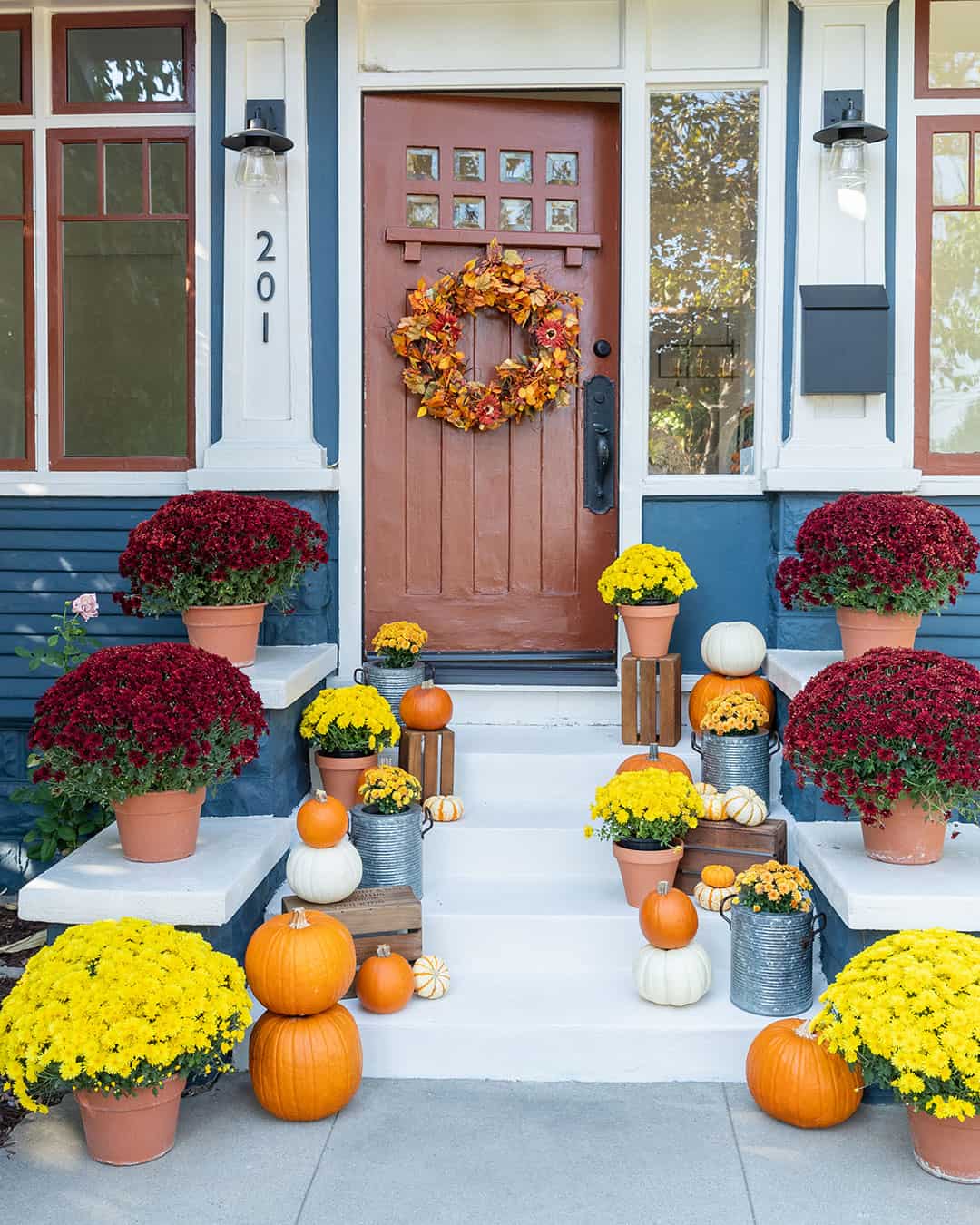 Side Entrance
For the side entrance I glued my house numbers on three pumpkins and stacked them together. On the steps I placed four small mums in these mini bushel baskets that I found at Michael's.
Pro Tip- make sure your fall decorations match your dog/neighborhood greeter.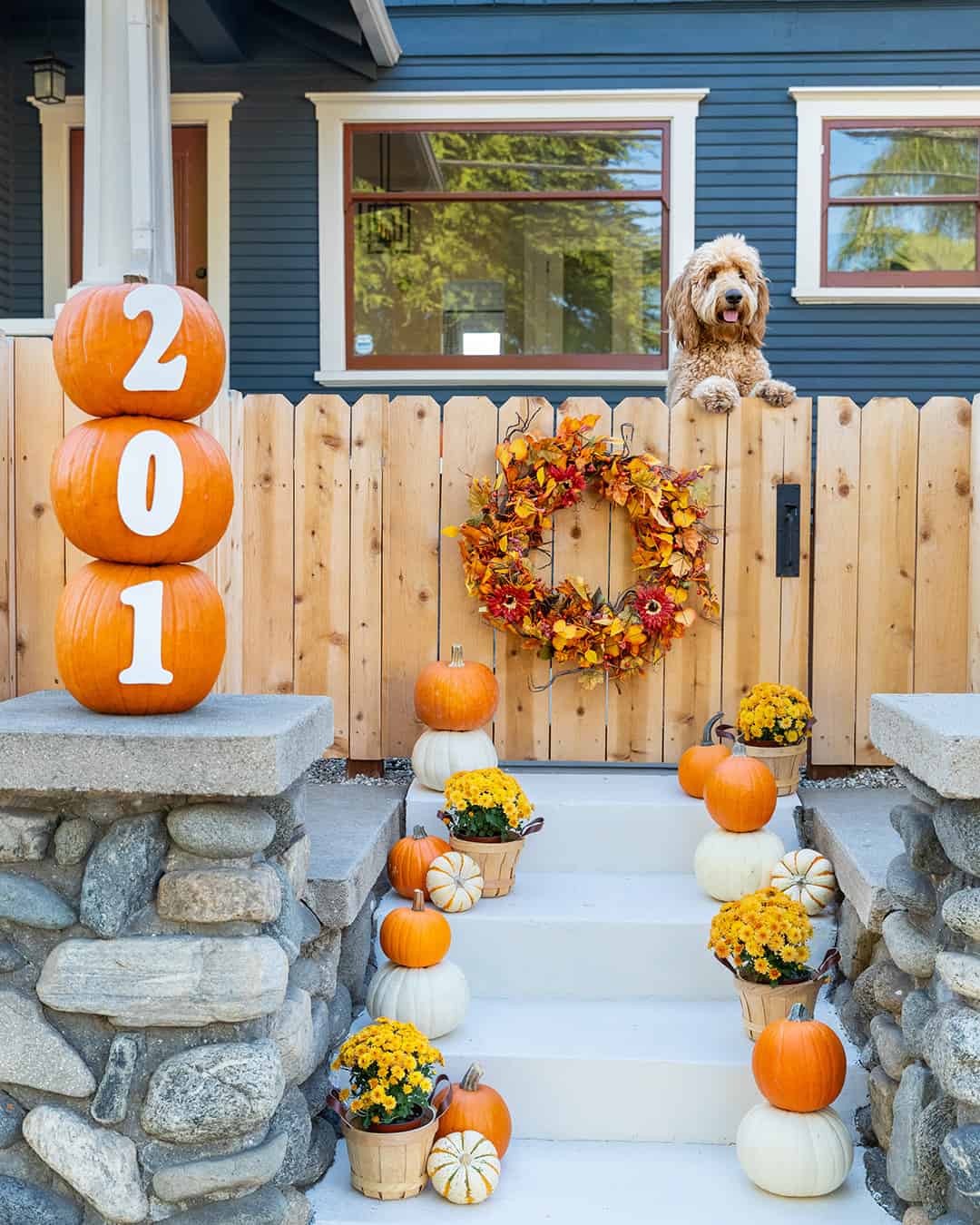 Tips for Creating a Porch Scene
Create Layers with Size Variations
Don't just get everything in the same size or go for all large elements. I used to only get really big flowers or pumpkins, because I didn't think anyone would be able to see them from the street. After some trial and error, I realized that creating a layered effect not only looks the best, but also conveys the design for anyone viewing it (whether close up or from afar). I have three different sized mums and placed them in different containers that go well together, while still adding some variation to the space.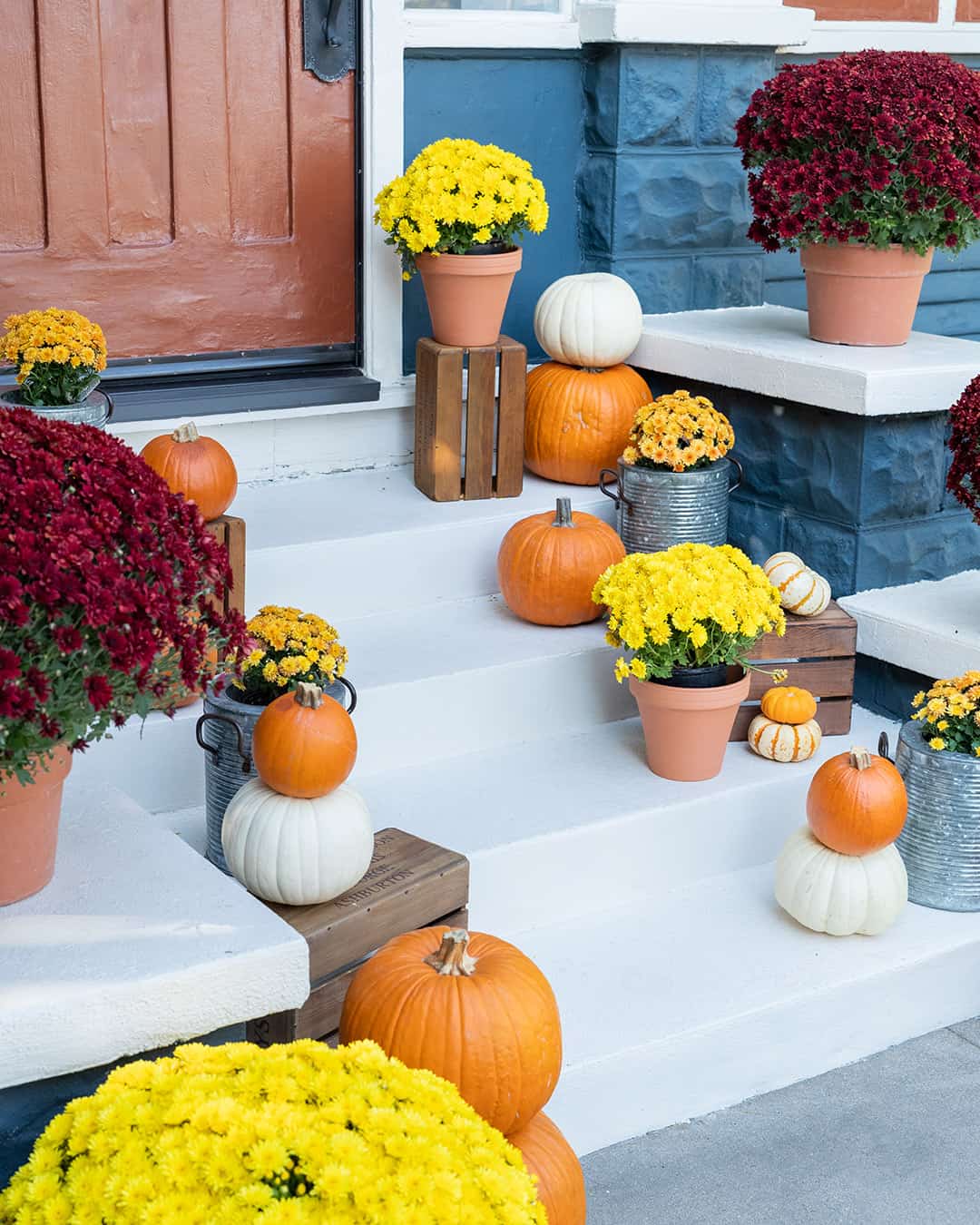 Stack Your Pumpkins
I love stacking pumpkins and integrating a variety of colors and tones. They come in so many different shapes, sizes, and colors. Simply trim the stem of the pumpkin you want to use as your base and place a small on top.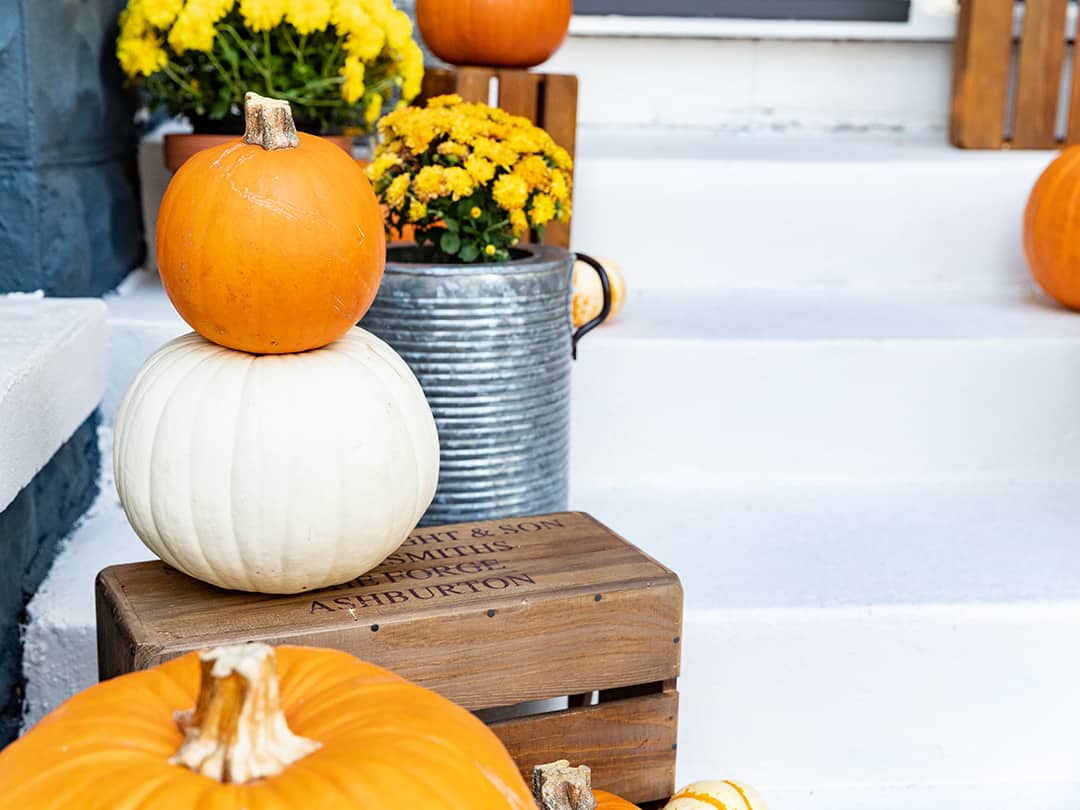 Angle Your Pumpkins
I like to use these mini tiger pumpkins with small to medium orange pumpkins. I'll stand them up or place them at an angle for some extra style.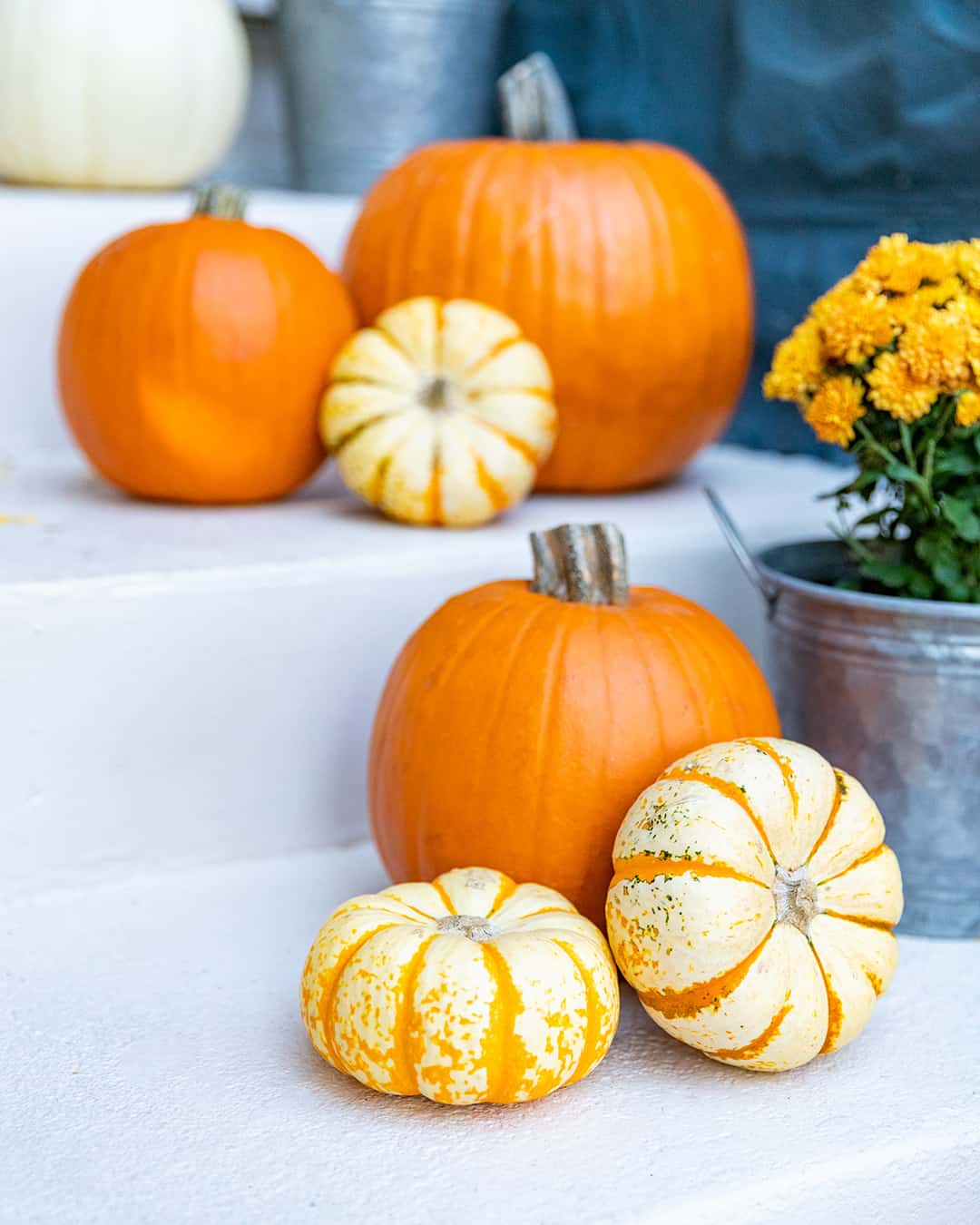 I hope you enjoyed my tips on how to decorate for Fall, and got some good ideas for the your home. For more ideas and inspiration for decorating and DIY projects, follow Anawalt on Instagram & Facebook! Also, we always love seeing what projects you are doing, so feel free to share them with us using the hashtag #AnawaltAtHome.