I moved into a townhome last October and haven't really yet made an effort to make it feel like home. I don't know if you can relate to this, but as a renter I get stuck in a way of thinking where I don't allow myself to put a lot of effort into my living environment because I'm just that. . . a renter. I always run through the standard gamut of reasons– why would I add value to someone else's property, how long will I actually be here, will I lose my deposit if I do certain things?
I think so much has changed, though, with us living in a post-pandemic world, including the amount of time we spend in our spaces. I do believe that our living environments can make a huge impact on our well-being and so I decided to throw away the old way of thinking that I have always been told as a renter and not limit myself so much.
Over the next several months, I'm going to slowly tackle the various spaces in my (rented) home and spruce them up in renter-friendly ways.
Since it's summer and I always try to justify the amount of rent I pay by reminding myself how great the weather is here, I thought I would begin with my small outdoor patio.
I started by making a list of my goals/wants. . .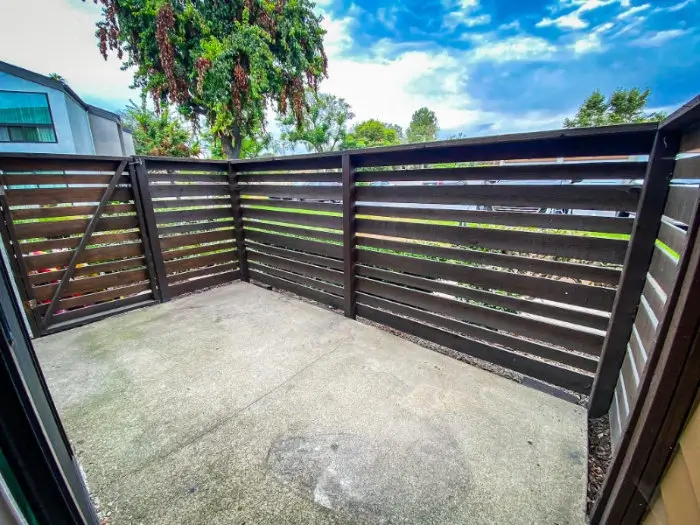 Greenery. Pretty plants for some greenery and color, but not too many. I don't want to be overwhelmed by the gardening needs, but I don't mind some basic maintenance. I also don't want it to look like a crazy plant lady lives here. . . respect to you out there who embrace that title, but I do not have that kind of skill level or dedication.
Lighting. I don't have a patio light, so I'll need to hang some string lights. They can't be too heavy though, since I'm limited on what I can use to hang them.
Entertaining. I like to throw dinner parties and this space seems like the perfect spot to gather and break bread. I also want it to feel cozy, but not overdone. I want the furniture I pick for the space to be intentional and practical, without overcrowding the patio.
Grill. I really enjoy cooking and would like a simple and affordable outdoor grill for making burgers, ribs, corn, and other delicious eats.
Layout
Next, I measured the space and drew out a plan on my iPad. Here's how I achieved my goals and planned out a space that works best for my lifestyle and needs.
Adding Greenery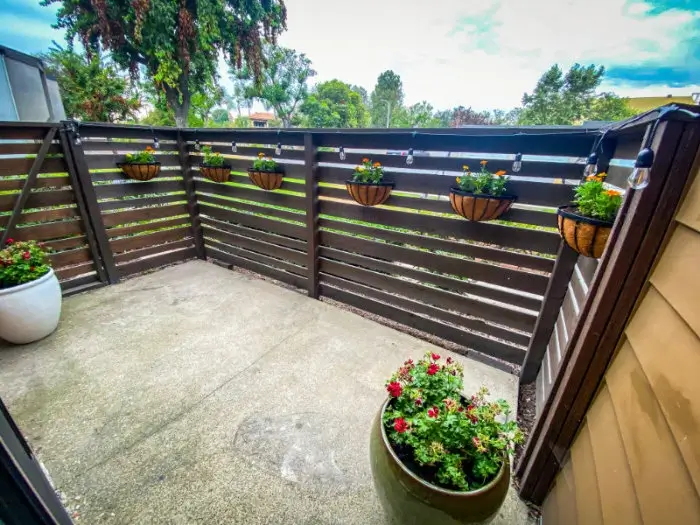 The space itself is quite linear, but not very wide, so I decided to utilize the wall space of the slatted fence that encloses the patio. I found these cute hanging baskets and hooks that fit perfectly on the fence. Based on my dimensions, I figured that six would fit nicely. After speaking with the super helpful staff in the garden department, they recommended I use marigolds since there is a good amount of sun exposure. Bonus, they're also low maintenance and only require watering about once a week (depending on the weather). 
Using my floor plan, I also factored in space for a couple of larger pots. Anawalt has the most beautiful assortment of pottery and many colors and styles to choose from. I decided on two from Asian Ceramics (one white and one green).  Again, the garden experts were so helpful and recommended geraniums. They need about five hours of sun per day and will need to be watered about once a week (again, depending on the weather).  
So to recap from my original goals. . . 
Pretty plants to bring in some greenery and color, but not too many that I look like a crazy plant lady

Low maintenance
Lighting
I found these string lights that fit nicely around the perimeter of the patio. They were really easy to install. I just used nails and hooked them using the existing loops above each bulb. Fortunately, my lease allows for small nails, so I don't have to worry about losing money on my deposit. When going around the corners, I pushed the nails up so that it kept the cord tight. I should have gotten u-nails, but this worked out well when in a pinch and saved me a trip back to the hardware store.
Apartment friendly. They aren't too heavy and the nails are holding up the lights really well.
Seating & Entertaining
Next, I needed to find a table that would fit nicely in the space and provide enough seating when hanging out with friends and hosting. I originally thought I was going to do a round table, but I fell in love with this rectangular bar height table with four stools. They're teak wood and will hold up well over time. The table is also the perfect size for the space without overcrowding the area/pathways. I can see myself working outside on my computer, enjoying a glass of wine, gathering around it with friends for dinner and game nights. I also like that I can pull up two extra stools if needed, making it possible to seat a total of six people. Bonus, the outdoor rug I already own is the right size to fit under the table and stools, which saved me money by not having to buy a new one.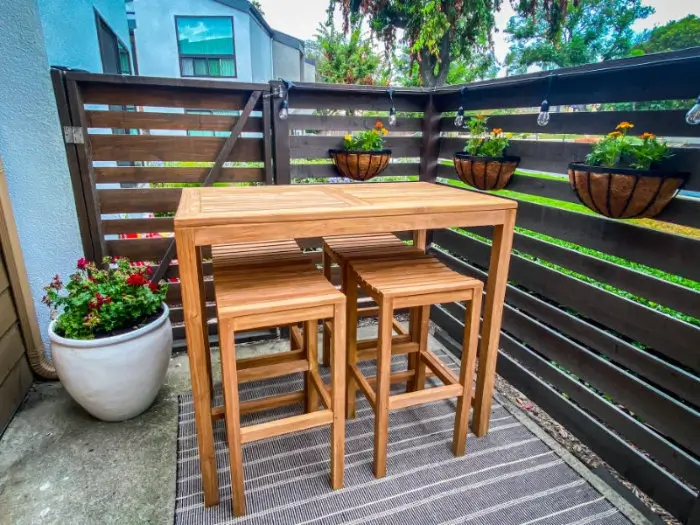 With the addition of the table and stools, I was able to check off my furniture and entertaining goals for the space . .
Room for gathering and dinner parties
Good proportions to the furniture without overcrowding the space
Grill Time
Last on my list was a grill. Given the size of the space and my budget, I knew I didn't need anything too fancy, but did want something that was good quality and user friendly.
Now, this was unexpected but I found the most aesthetically pleasing grill from Weber. The one I got is the Weber 70th Anniversary Edition Kettle Grill. The best way I can describe the look of this grill is that it reminds me of a classic car. Which is fitting, because the color I got is called Hot Rod Yellow. I definitely didn't think the hardest part of my shopping trip would be deciding which color grill to get. I also never fancied myself as the type of person to get excited about a grill, but given how absolutely adorable this one is, I think it's entirely warranted. I love the little details, including the wood handles. Just such a nice touch *chef's kiss. Bonus points for it being user-friendly. I've already made burgers, steaks, and grilled corn.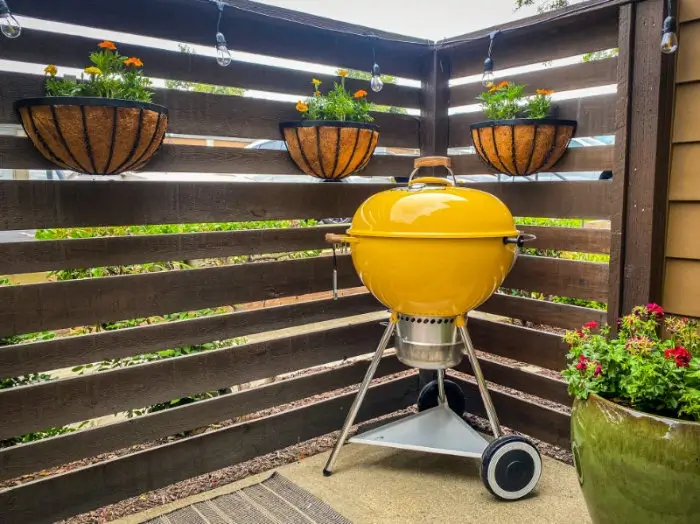 Unexpectedly, the grill of my dreams checked off all my boxes. . .
Easy to use
Within budget
Aesthetically pleasing. This wasn't an original requirement, but given how cute it is, I think it deserves a moment of recognition.
Here's a final look at the completed space! Thank you for following along as I tackle the first project in my spruce-up journey. I hope it inspires you to do the same with your space!