Spending so much time cooped up indoors during quarantine made me want to bring the outdoors in. To combat quarantine boredom and help me pass the time, I decided to spruce up a bookshelf in my sunroom. I needed something that was affordable and doable, given limited resources.
By combining a few decor purchases and some plants from Anawalt with items I already had, I was able to transform the space. It was so easy and definitely possible for anyone to recreate this at home. It's now my favorite place to hang out and makes spending so much time indoors much more enjoyable.
https://www.instagram.com/p/CCY-ausJZu4/
To achieve this look, I suggest starting with the layering method. Grab books, decor, art, picture frames, etc. and separate them into categories. From there you can start piecing it together!
The Bookshelf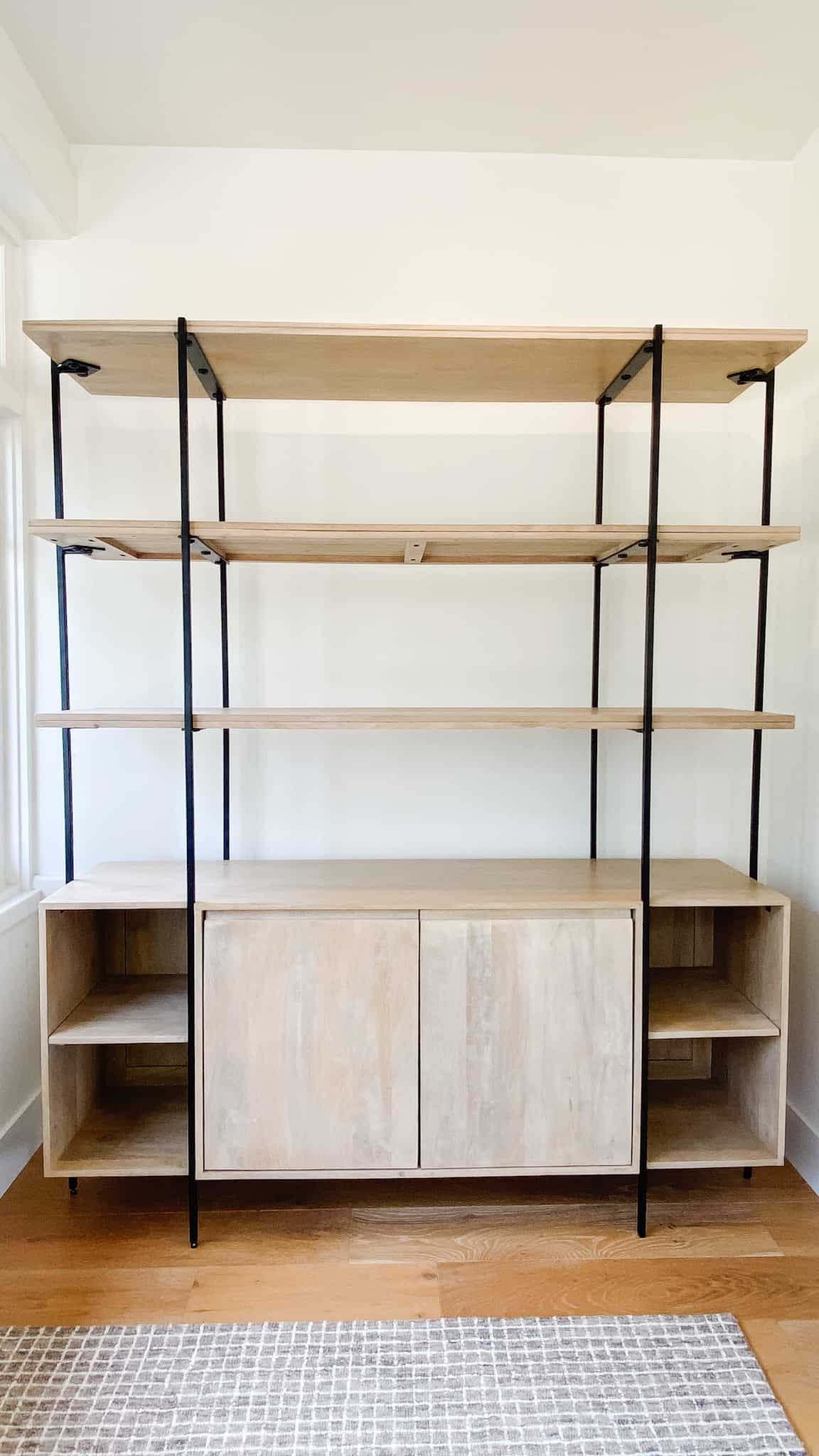 Think of this as your canvas. I got my bookshelf from Scout & Nimble. I like how the mango wood plays with the brightness of the sunroom.
Books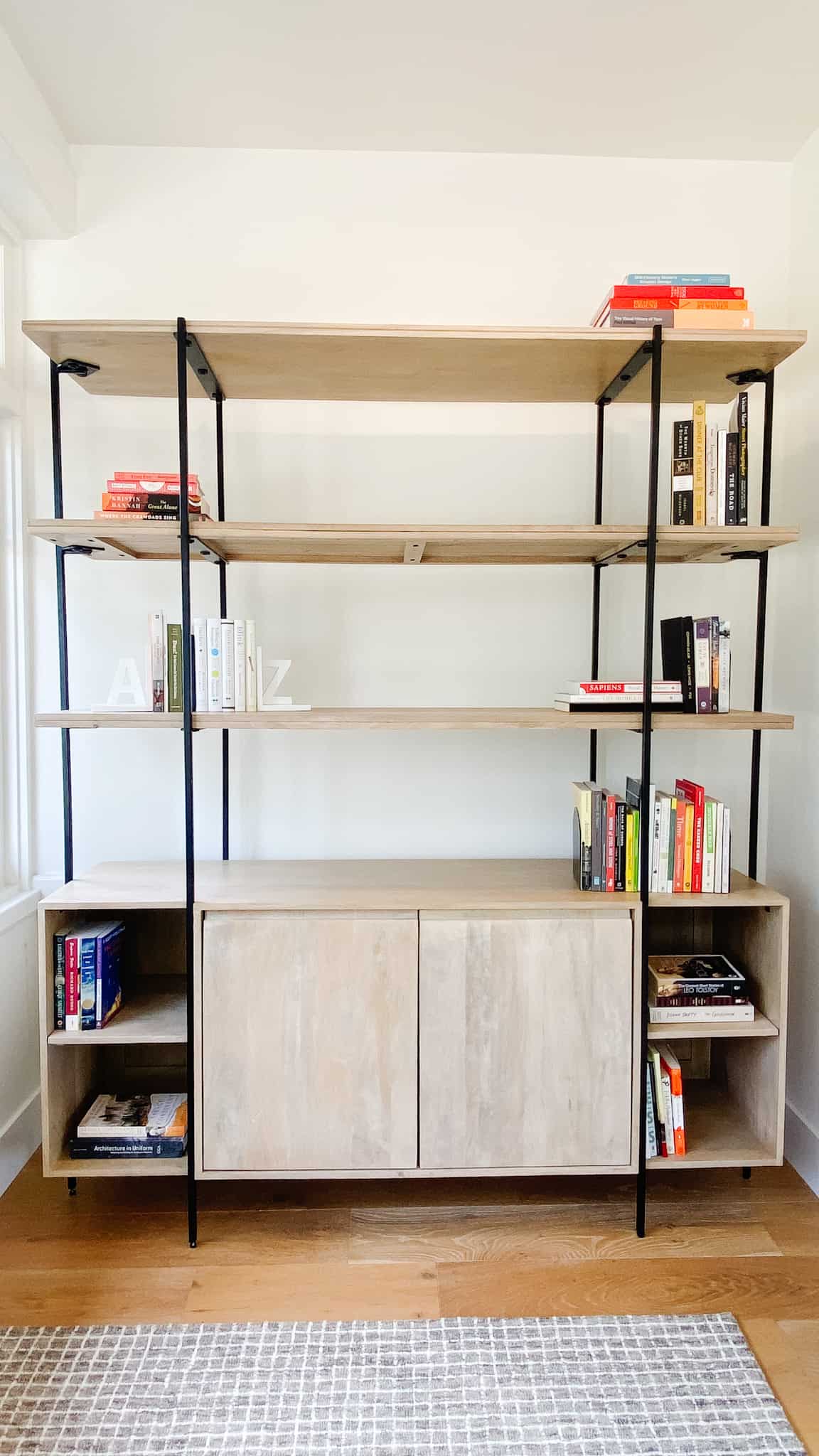 I gathered up a bunch of books and grouped them together. There's a lot of possibilities with books- place them sideways, horizontally, with bookends, etc. Don't go too overboard otherwise it can start to look cluttered. Think of everything as light layers (like when you're dressing for warm and cold weather).
Artwork & Photos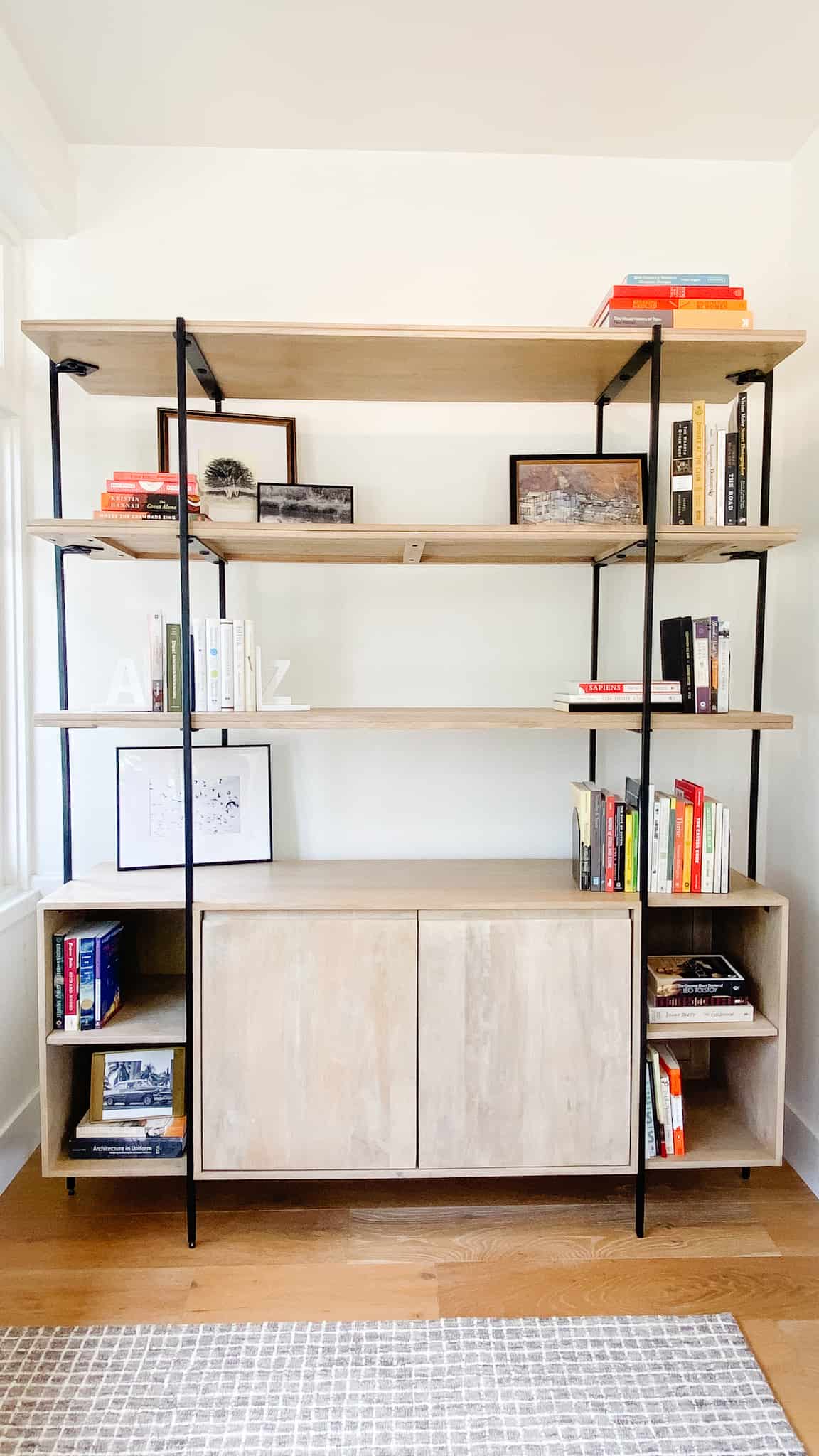 I found that leaning the artwork against the railings of the bookshelf added some nice dimension. I also think an easel would be a great way to display artwork, like these from McGee & Co.
A great place for affordable artwork is Artfully Walls.
I used the following pieces for my display.
The brass frame in the bottom left shelf is one I already had, but here a few that are similar or just as cute!
Large Decor Pieces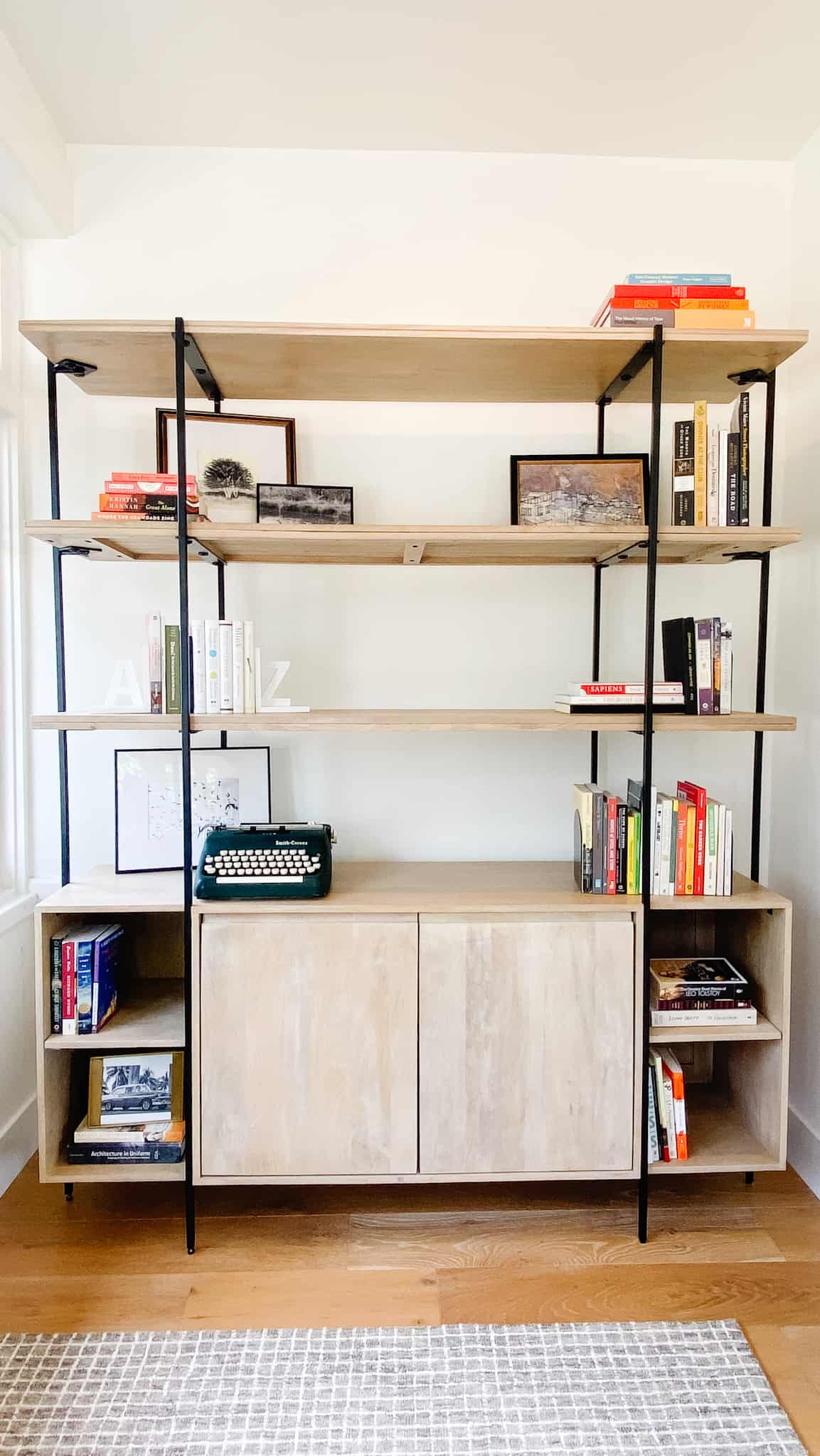 Next you'll want to add your larger decor pieces. I used this vintage Smith Corona typewriter. I've never had a spot to display it until now and I love how it looks among the books and artwork! Etsy is a great resource to find vintage items like typewriters.
Smaller Decor & Accent Pieces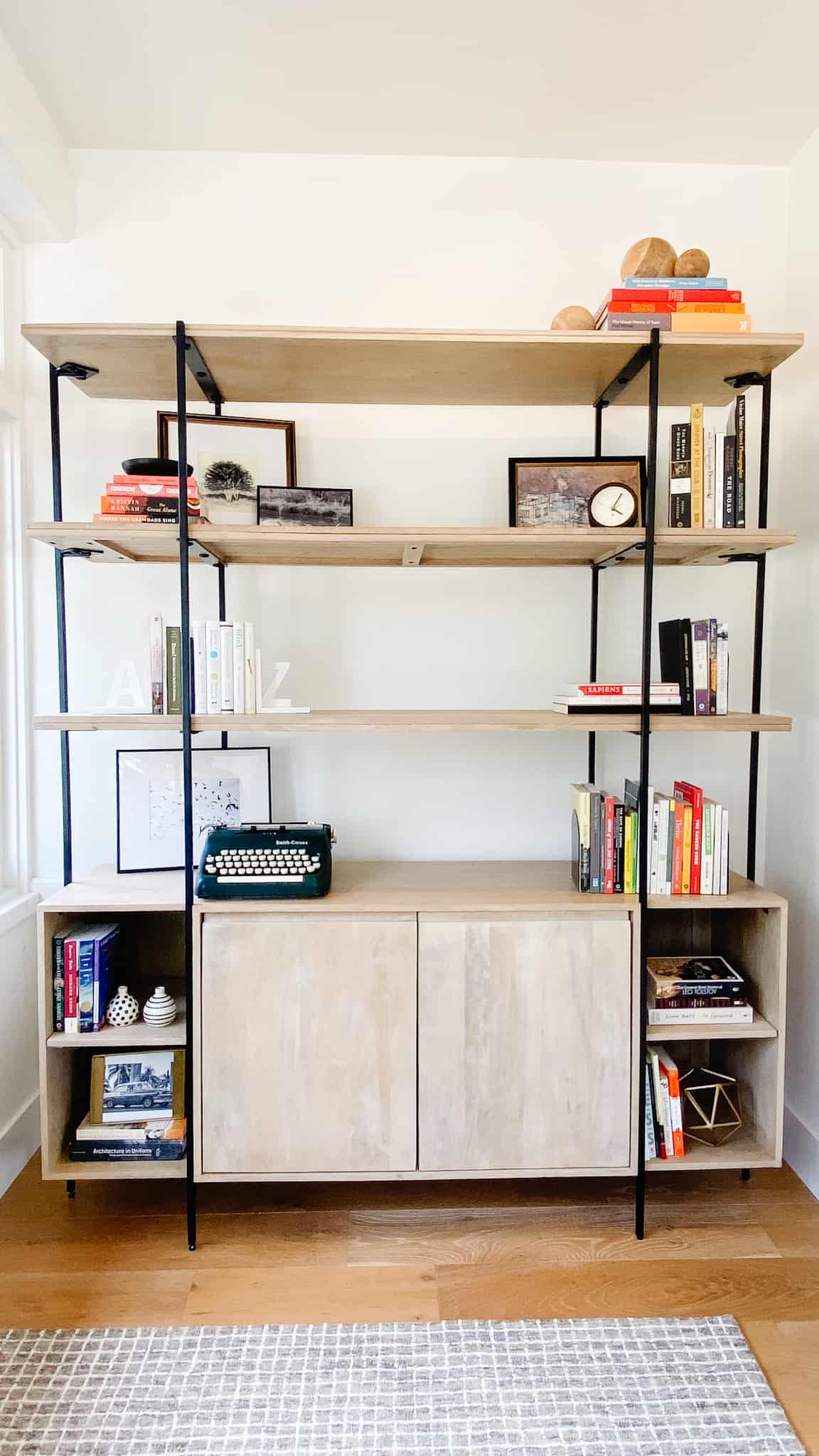 The last step before adding in my plants was to place my smaller decor and accent pieces throughout. By positioning some books horizontally I was able to place this small soapstone bowl and wooden ball set on top of them. I also layered in a clock, brass object, and small vases (these are old, but found something similar here).
Plants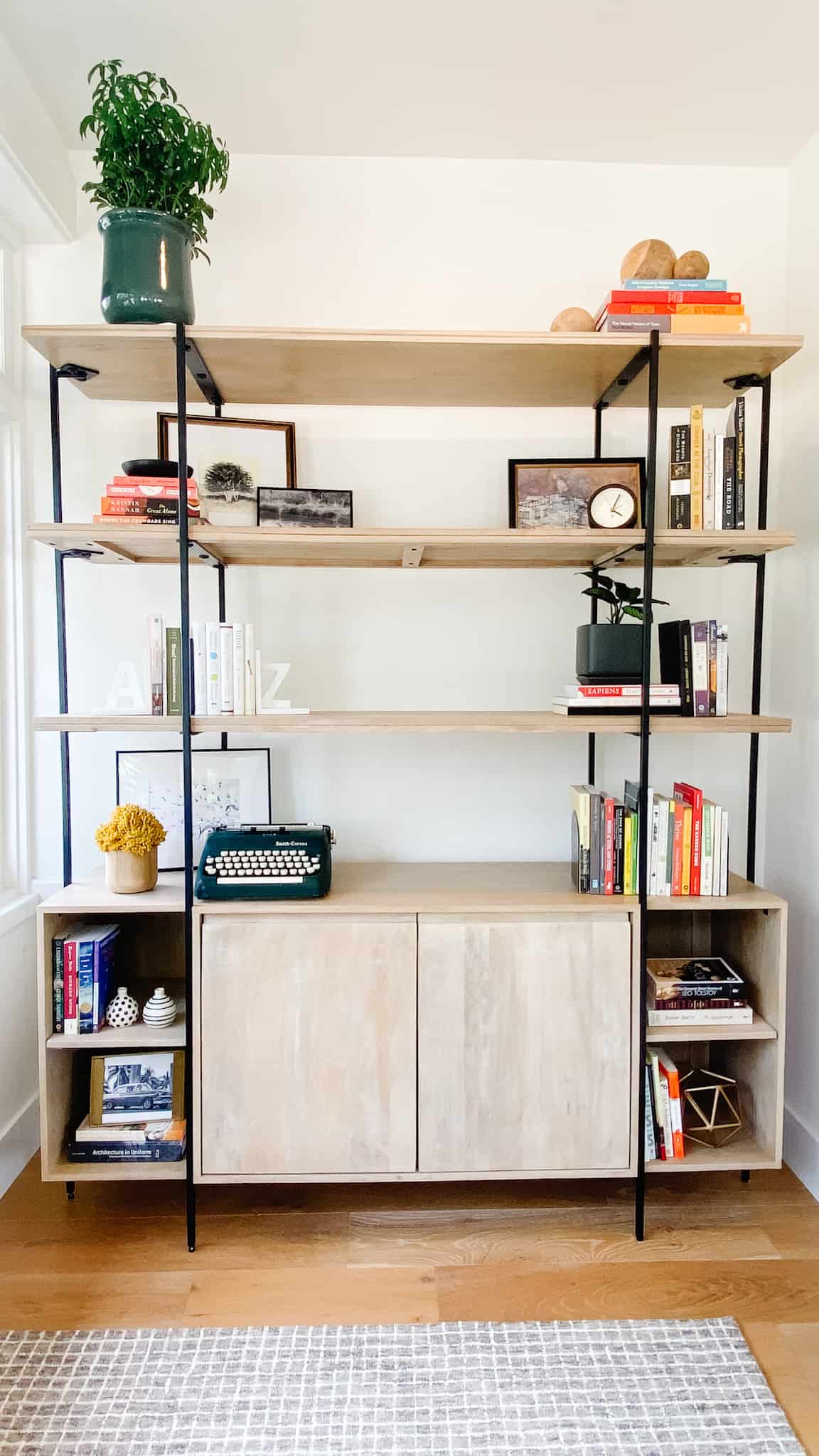 For the final layer I added in three plants and vases from Anawalt.
The top left plant is a Schefflera Arboricola (Dwarf Umbrella Tree). It's a great beginner plant and does well in bright indirect sunlight.
The plant on the third shelf from the top (right side) is a Calathea (same family as Prayer Plants). It enjoys bright, indirect sunlight and evenly moist soil. Make sure you water consistently. It's also pet-friendly, so perfect if you have a cat or dog.
The plant on the bottom left is a yellow Kalanchoe. Place these beauties near a sunny window, as they need lots of sunlight to bloom.
I highly recommend taking photos of your space and speaking with an expert at the Anawalt Garden Center to help make your plant selections. They're incredibly helpful and will provide great suggestions for your sunlight capabilities and needs.
We would love to see how you decorate your space with plants and unique decor items! Tag us on Instagram or Facebook and #Anawaltathome.