Every spring, as I yank out my last beets, my tomato anxiety begins. In February, when I start a few seeds indoors on a heat mat, I feel I have all the time in the world. In March, when I purchased a few unusual varieties in four-inch pots, I wondered if I was jumping the gun.
Now as we enter April, I'm desperate to get my tomatoes in the ground, staked and caged.  I love tomatoes raw, cooked, canned up, and dehydrated. Before I get out the trowel, I need to plan my strategy. 
How many tomato plants can I successfully grow? In my yard, I'm shooting for a dozen.
For the typical backyard gardener, finding space is the most pressing issue. If you're like me, you want to plant a bunch of different cultivars. After all, how many "Sungold" vines do you need when each plant will produce hundreds of tomatoes?  Rest assured, you are not a failure if you didn't start seeds indoors or if your seedlings didn't make it.  We are not cheating when we buy plants from a nursery that have been started by a pro!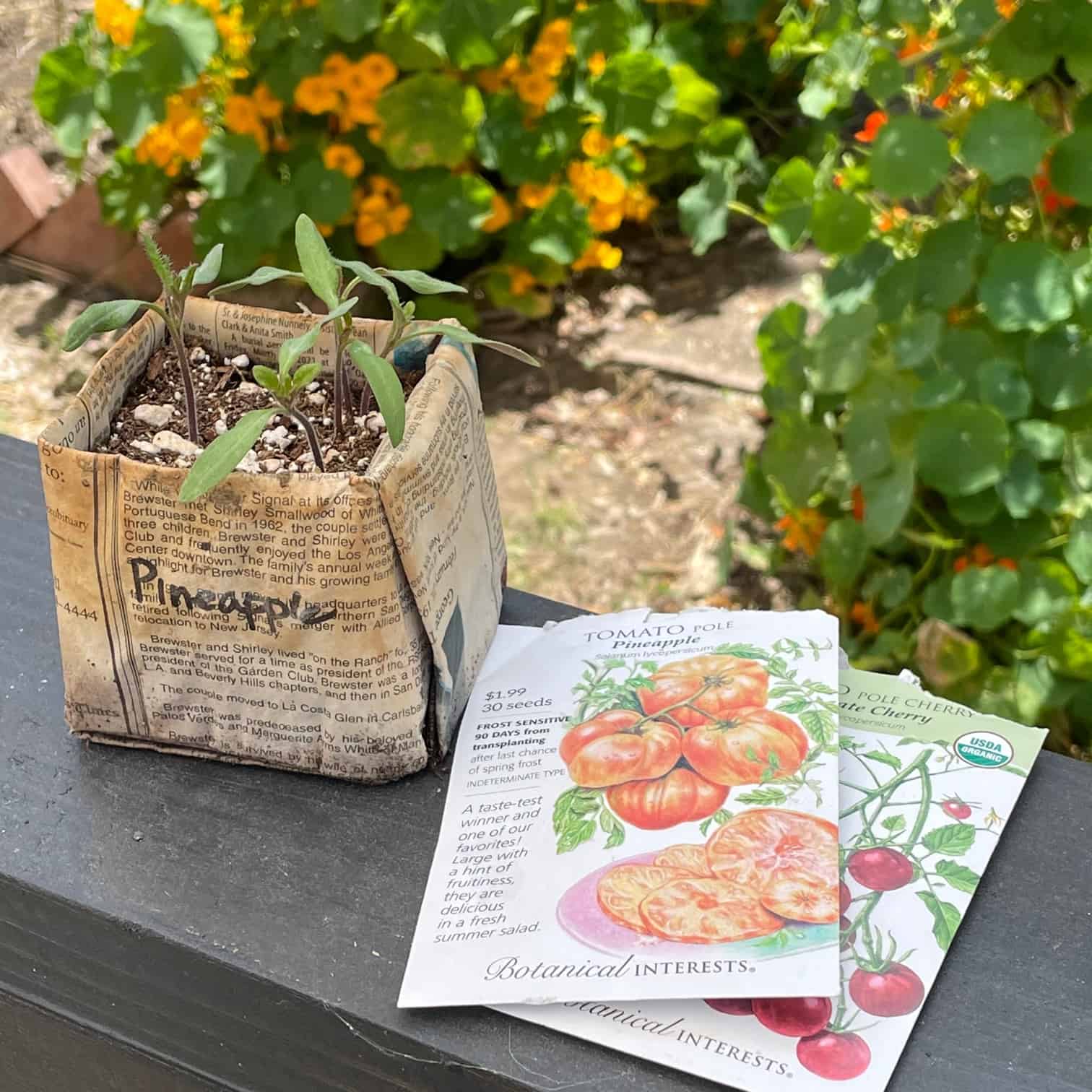 Tomato plants generally fall into two categories: determinate and indeterminate. Determinate (bush) tomato plants are bred to stop growing at around 3′-4′ feet tall, with fruit that develops and ripens all at once. Indeterminate tomatoes continue to grow and produce fruit throughout the growing season.
Tomatoes all need ample space, especially if they are indeterminate. To keep diseases at bay, good air circulation is paramount. I usually allocate a two to three-square-foot area per plant. They thrive in full sun, and a healthy plant will grow dense and tall. Arrange them so they don't shade each other out.
With so many old standards and with growers introducing new tempting varieties each year, I find it increasingly difficult to decide who makes the cut. I look for a range of colors: yellow, orange, red, pink, and deep purple and well as categories: tiny cherries, firm plum, and hefty heirlooms.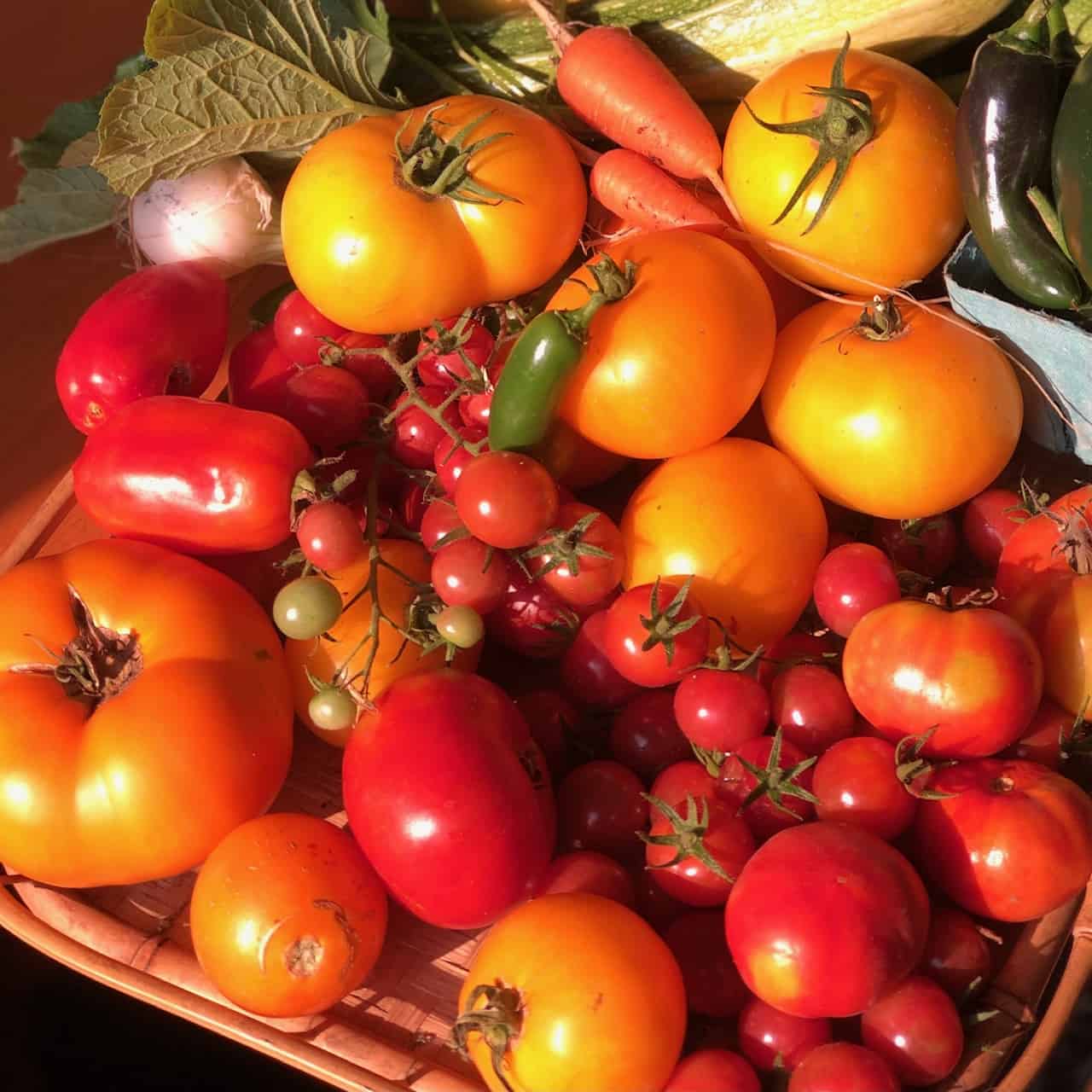 I get three cherry tomato plants. This year I'm trying one called "Chocolate Cherry," the reliable "Sungold," and the olive shaped "Aiko." I get at least two plants with paste-style fruit. My favorite plum tomato is "San Marzano," for rich, flavorful sauces and fresh salsa. I also started "Amish Paste," which is great for making tasty tomato soup. "Lemon Boy," which is an early heavy producer of round, yellow fruit, is a must.
Last year I harvested over 500 of these beauties for cooking and eating raw from a single plant. Heirlooms are more temperamental but worthwhile, given their intense flavor. I like Purple Cherokee, Pineapple, and Red Brandywine. As for a nice red Beefsteak that produces large, sweet fruit with great shelf life, I am trying a Japanese variety called "Reika." The final spot in my garden will go to "Brandy Boy," which combines the flavor of Brandywine with the vigor of a hybrid. The pearly, rose-tinted flesh will be ripening just in time for burgers hot off the grill. Somewhere between my roses, a mysterious volunteer will thrive. Last year it was a super-sweet, yellow pear.
Those four-inch plants I couldn't resist buying a month age are getting a little leggy. When I plant them this week I will snip off the lower branches and plant them deep, leaving the top three inches above the soil line. In no time the subterranean stem will sprout roots, and the plant will recover from my neglect! By summer I will be strolling through my yard, eating sun-warmed tomatoes from the vine and wondering why I ever worried.